Welcome, RedCliff Alumni!
This page was created just for our alumni. Watch for photos, announcements, and information about our graduates. Join the conversations on our Facebook page, or reach out to Darcy, our family coordinator at [email protected]
The Heartbeat, an Alumni Newsletter
Caleb.
Caleb is doing well. There were some times in between Red Cliff and now where he was not okay. He chose homelessness twice. But he is clean now and living at home again. (For four months now.)
He is finishing up his last credits of high school using an online program and a school tutor who administrates it. He should be done any day now.
He is working construction with a team of builders that did our 4-year home renovation and, thus, have become like family. They look out for him and are teaching him skills.
Caleb did decide to walk out of there, get on a bus back east and relapse. He spent a month homeless, overdosed and was revived by EMTs. Waking up in the hospital prompted him to take another crack at rehab, and he contacted us. Daniel helped us get him into Tunbridge in New Haven, CT, where he spent about six months. He got kicked out for doing "whip-it's" ( with whipped cream cans). We told him he could find a place that took our insurance, but that we wouldn't support him out of pocket anymore. He then went to Florida to a place called Beaches (which I would NOT recommend). After flying him down there, they decided that he did not qualify for their program because he was clean. They kicked him out but scholarshiped him into a sober house for a month. He got thrown out of there for breaking curfews and not making his bed (but was still clean) and lived on the streets in Jacksonville for a month trying to hold down a job at Walmart. Finally, when he saw that everyone around him was either "homeless, drunk or addicted" he asked to come home. We've set our boundaries, and he's been good about meeting them. He's lonely because all his childhood peers have moved on. But he gets that this is a transitional time for him. We are grateful that he is alive and healthy. He does not go to meetings, and we don't force him because we want his recovery to be for himself, not us. But Andy and I have started a Families Anonymous meeting in our town, and find strength in working our steps with other parents in the same boat.
Red Cliff was probably the most influential experience of his journey. We recommend it to everyone. We are incredibly grateful to all of you for turning him around. You gave him the tools he needs to get sober any time he needs to in life. (In Florida, they nick-named him "Mr. Recovery"-because he shares liberally what he has learned at RC, IB and Tunbridge…even if he hasn't always followed it!)
Post script update.
A  recent update: he is doing well. He has finished a semester of college at Westfield State and is living at home (very amicably) and working on getting part time employment that he can balance with classes. He is enjoying life again- working on his music and artwork and searching enthusiastically for a direction in which to launch his ship.
Join Us for the 2016 Reunion!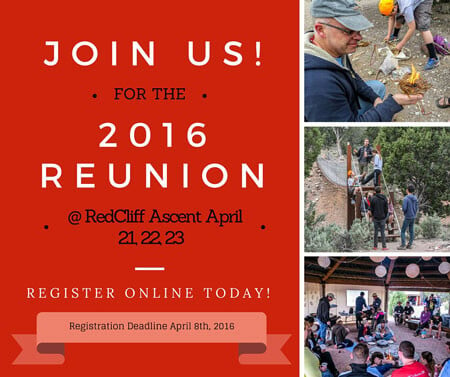 Here is a link to the 2016 reunion registration online! 2016 REDCLIFF ASCENT REUNION REGISTRATION (Registration deadline is April 8th, 2016!)
Watch the Reunion video below!
Check out photos of the 2013 Alumni Reunion here!
Below are some photos from our first ever class reunion, April 7, 2011.
The theme:
"This time you know you're coming"
We received this letter from Noonday Orange Blossom and wanted to share it with all of you…