Wilderness Therapy Program for Troubled Teens
Welcome to our wilderness. RedCliff Ascent has guided troubled teens and their families from here to the help they need for 20 years.
RedCliff Ascent is a therapeutic wilderness program for troubled teens ages 13-17 who are on a developmental vacation, our term for a disrupted or incomplete pattern of development.
Located on the high desert plateaus of Southern Utah, RedCliff Ascent covers an area of approximately 650 square miles.  RedCliff is not a boot camp, adventure camp, or any other kind of camp. Our model of teen help is based on respect, trust, and the understanding that your child is more than just a diagnosis.
Founded in 1993, RedCliff is different from any other kind of wilderness therapy program. We offer a level of clinical sophistication that is unmatched. RedCliff therapists don't just hold therapy sessions in the outdoors. They understand how to use the environment as a clinical tool.
Our clinicians use a sophisticated mix of hard and soft skill development to help students progress therapeutically. The therapeutic value is not simply doing the task. It is understanding the meaning in the skill. RedCliff clinicians understand how to help students discover a very personalized interpretation. The task becomes a window from which the therapist helps the student view his struggles and his potential.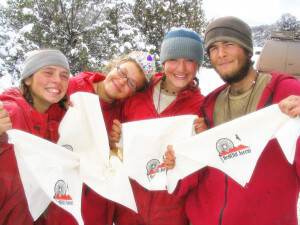 Our goal is to help you find solutions to the struggles you face at home with your troubled teen. If our wilderness therapy program does not meet your child's needs, we will recommend other treatment options or independent educational consultants who can guide you to an appropriate program.
We can help you, and your troubled teen, build new paths to success.
Explore our website and learn how our treatment model makes us a superior therapeutic wilderness program.
For additional information about how RedCliff Ascent can help your family call our admissions counselor at 1-435-878-2870 or 1-800-898-1244.
Contact Info
RedCliff Ascent is authorized under Federal law to enroll International students.
SEVIS I-20 approved