A New Life of Love and Hope – From Wilderness to College Bound


We received this letter from one of our English alumni parents on June 21st.  We're so proud to hear of the turnaround that S. has made in his life and can't wait to hear more as he continues to grow!  Congrats on one year and many more from your RedCliff Wilderness family!

oday we celebrate ONE YEAR of hope for our son and for all of us as a family.  It was exactly a year ago today that Eddie and Tyna came through the front door of our house and took S. to an adventure that has become the beginning of a new life of love and hope for him and for us as a family.
Thank you so much to each of you for the role you played in his success.  Jim and I will be eternally grateful for the kindness and professionalism of Eddie and Tyna and for the amazing emotional support Eddie provided us in daily endless phone calls on what was at the time a terrifying and scary decision (to say the least!), the amazing support by Barbara and Graham while we were preparing such a difficult transfer across the Atlantic.  Thank you Steve DeMille for the amazing support and patience that you have always shared with us the anxious parents in our weekly phone calls and for your magical power to help S. find the light, for teaching us become better parents and for making possible that our son run into our arms on graduation day,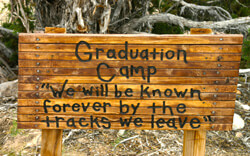 a dream that we feared wouldn't happen just one year ago; Steve, you're just awesome!!!  Thank you to every single person in Redcliff that looked after S. and that dedicate their lives to make a difference in so many kids' lives and their families, you're just so inspirational.  Thank you to each of you for helping us become better parents without ever being judgmental, for restoring our confidence as parents, and for helping us become the best version of ourselves as loving parents and as a family.  Thank you all for getting our boy back to what he always was, but with the maturity and confidence of a happy young man.
We are right now in the US spending a few days with our young President (or should I say Prime Minister?), who is very happy with life (in spite of recent football results!) and who is planning to go to college in the US (yes, we are getting lots of airline miles!) and who has gone back to being the amazing loving caring son that he always was.  The magic in the attached pictures would have not been possible without each of you.  We will be eternally grateful to each of you, and you will always be part of this special date in our calendar.
God bless you all on our first anniversary of our new beginning!