Struggling, Failing, Persevering, Mastering new Wilderness Skills – Metaphors for daily life
by Kodiak and Black Bear
Rabbit Stick is a gathering of people who come together from all over the country and the world to share knowledge and skills concerning primitive culture. Many of these individuals hold regular jobs in the outside world but have grown to love the things they have learned at Rabbit Stick and often return.
Upon arriving at Rabbit Stick, I noticed first the immediate sense of community that we all shared, in spite of a great diversity in our backgrounds. Some, like me, came to enjoy the week and learn new skills, while others used their skills as a part of their daily lives. The amount of trust, honesty, companionship, and love was astounding to me with such a diverse group. Instructors and participants were excited to share their knowledge with others for very little in return and everyone encouraged hands-on participation in the activities.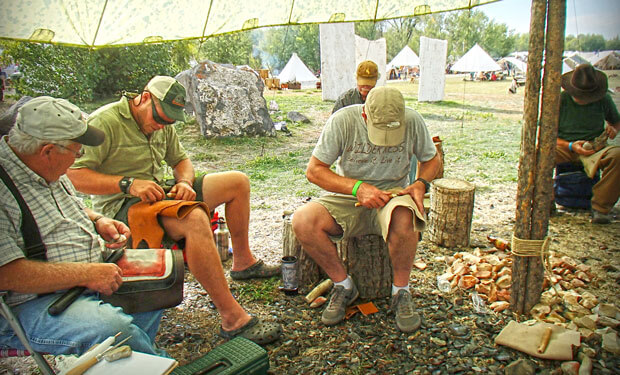 Some of the classes that were offered included: basket weaving, knife making, brain skin tanning, buckskin sewing, felting, archery practice and bow making, medicinal plant uses, plant identification and foraging, cordage, atlatl throwing, survival kits, and a number of other skills and activities. Although some of these skills might not prove to be used as consistently as others in my daily life, it reignited an excitement for learning about primitive culture and a serious desire to share these skills.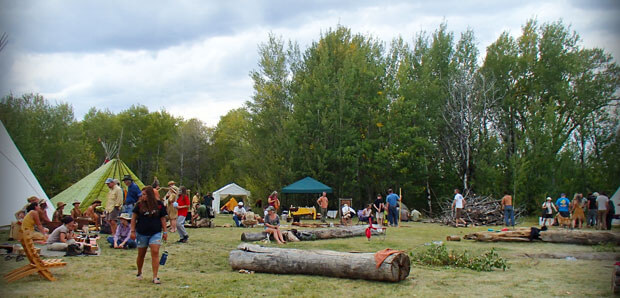 During my time at Red Cliff, I've noticed that when we as leaders are excited to teach and learn skills, so are the staff that we are training and the students that we are teaching. Primitive skills are a great way to challenge ourselves and our students in the field. The process of struggling, failing, persevering, and ultimately mastering these skills, holds endless metaphors for therapeutic interpretation. The lessons learned during that struggle are ultimately the same ones that will carry our students through later trials in their lives.
I was humbled by my experience as a student in the flint knapping and basket weaving classes (not as easy as it sounds or they make it look!). The instructors' encouragement to practice and keep working even when there was clearly a lack of ability gave me greater appreciation into what our students experience and how we as instructors can affect their experience.
Throughout the week, we met some individuals who had a direct knowledge of RCA, some who knew of Wilderness Therapy, and a good portion who had never heard of either. I was proud to be able to explain what we do and why it works, and to share our experiences. I'm grateful that I work in a position where I get to see firsthand the difference in our student's lives and to see young people make the changes that I know they're capable of.