Turning Outcomes Research into Treatment Effectiveness
One of the most frequently asked questions when people inquire about wilderness therapy is "does it work?" Does wilderness therapy work? Long before social and industry pressures made it a necessity to do outcomes research, RedCliff Ascent has been committed to conducting research to answer these questions for families, consultants, and other mental health professionals.
A History of Wilderness Therapy Research
The wilderness has been used as a tool for personal development for centuries. Within the last 150 years parents and schools have found wilderness treks as a powerful way to build character in adolescents. Early research identified four benefits of a wilderness trek: for personal growth/maturity, to develop resilience, to develop an internal locus of control, and to build self-esteem.
More recently the wilderness is being combined with therapeutic intention to work with struggling adolescents. A review of early research found that programs with greater therapeutic intention do better than programs which are more recreational focused programs. Although the early research was critical in the evolution of wilderness therapy it could not address questions regarding effectiveness.
The First Outcome Study on wilderness therapy
The first effectiveness study on wilderness therapy was conducted over 15 years ago at RedCliff Ascent. Dr. Steve Aldana, a researcher from Brigham Young University (BYU), wanted to see how participants did, not just in the program, but 6 months after they returned home from the program. In order to measure improvement, Dr. Aldana used a measurement developed to assess adolescent functioning, the Youth Outcome Questionnaire (Y-OQ). In his study, Dr. Aldana found:
On average participants improved significantly from Intake to 6 months after completing treatment at RedCliff Ascent.
For the participants in this evaluation, 91.4% experienced significant clinical improvement.
Click here for a link to the original study results: http://www.wildernesstherapy.org/Research/RedCliffResearch.htm
Patented teen assessment – Youth-Outcome Questionnaire
The Youth-Outcome Questionnaire (Y-OQ) is a valid and reliable instrument used to measure an adolescents functioning. The Y-OQ is used to assess an adolescent's functioning using cut-off scores and track progress using a reliable change index. Higher scores on the Y-OQ indicate higher levels of dysfunction. The average score for adolescent in psychiatric hospitals is about 100. The average score for adolescents in outpatient treatment is about 78. The normal population score is less than 47.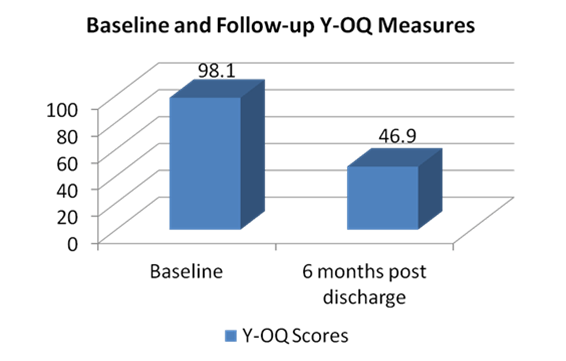 Additional studies yield positive results from wilderness therapy
Further Inquire into Treatment Outcomes
The next major study on the effectiveness of wilderness therapy was published in 2003 by Dr. Keith Russell from the University of Idaho. In Dr. Russell's study he looked at 7 program outcomes at admission, discharge and 12 months post discharge. Dr. Russell wanted to know if wilderness therapy worked and if the effects lasted a year after the adolescent completed treatment. This study has become the most commonly referenced outcome study on wilderness therapy, because of its strong treatment results. Although it is the most commonly referenced study, only two of the original programs remain in operation; RedCliff is one of only two remaining programs. Dr. Russell's study found that:
Participants experienced a significant improvement in functioning from admission to discharge on both the Y-OQ parent report and the student self report.
The gains were maintained 1 year after completing treatment.
Of all the wilderness treatment models used in the study the 'continuous flow' model, used by RedCliff Ascent, produced the greatest improvement in student functioning on both the Y-OQ parent report and self report.
Click here for a link to the original article by Dr. Russell: http://vildmarksterapi.com/uploads/Russell__2003__Outcomes_in_WT_.pdf
Russell, K.C. (2003). Assessing treatment outcomes in outdoor behavioral healthcare using the Youth Outcome Questionnaire. Child and Youth Care Forum. 32, 6, 355-381.
Is wilderness therapy a short term solution only?
Two Years Later
In 2005 Dr. Russell published a 2 year follow-up study to his original article published in 2003. Russell contacted a sample of the participants 2 years after completing treatment and found:
Over 80% of parents contacted perceived wilderness therapy as effective
83 percent of adolescents were doing better
Of the 83 percent, 58 percent were doing well or very well
17 percent were still "struggling."
Over 90% of adolescents contacted perceived wilderness therapy as effective
Participants were also doing well in school
86 percent were in high school or college, or had graduated from high school and were working.
7 percent had graduated from high school but were living at home and "doing nothing;"
6 percent had not graduated from high school, were living at home, and working or "doing nothing,"
1 participant was in prison.
A majority reported that family communication had improved.
Russell, K.C. (2005). Two years later: A qualitative assessment of youth-well-being and the role of aftercare in outdoor behavioral healthcare treatment. Child and Youth Care Forum, 34, 3, 209-239.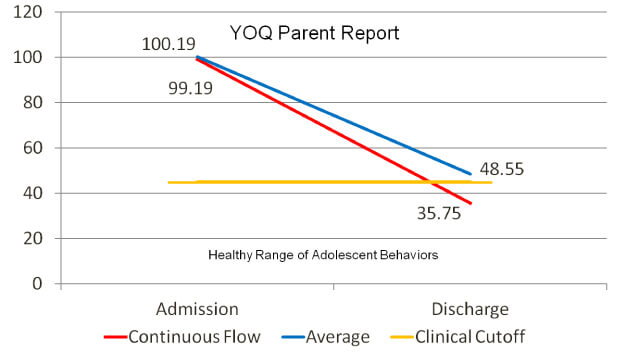 Living up to our commitment of quality wilderness therapy treatment
What's Happening Now?
RedCliff Ascent contributes to the National Association of Therapeutic Schools and Programs (NATSAP) research database. Each year NATSAP produces a report summarizing RedCliff's research efforts for that year. In 2012, RedCliff continued to produce high quality research outcomes. The NATSAP reported concluded:
"Redcliff substantially increased contributions of YOQ 2.0 [Parent Report and Self Report] assessments at intake, discharge, and post-discharge from 2012-2013. Redcliff has sufficient matched youth report data from intake through post-discharge to state that, on average, Redcliff clients arrive at the program with clinically significant levels of behavioral and emotional dysfunction, are within the healthy range of functioning upon completion of the program, and these gains are maintained at 6-12 months post discharge."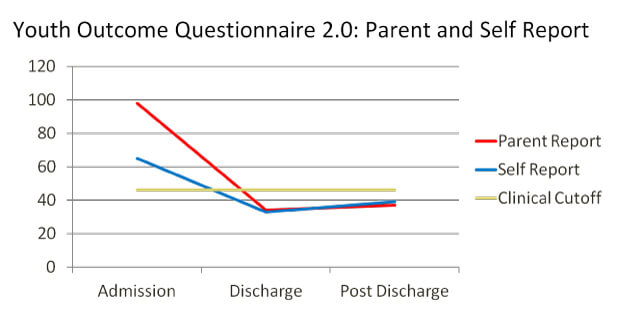 CONTINUE to part 3 of the research Series: "Is Wilderness Therapy Safe?"