Research
Unlike most programs in the wilderness therapy industry, we can back up our claims with hard data.
RedCliff Ascent gathers extensive research data on six different areas of our wilderness therapy program. Those areas are teen body composition, staff exit evaluations, parent and student exit evaluations, educational consultants and incident control. This research enables us to measure specific outcomes and systematically improve our wilderness therapy practices.
By tracking changes in student body composition RedCliff is able to quantify the health benefits of wilderness therapy. We are also able to make adjustments to diet to meet the wellness needs of each troubled teen.  Our data on body composition gives us the necessary documentation to rebut any accusations of abuse or mistreatment. This data protects our students and staff, as well as any referring sources.
Exit evaluations with departing staff help us spot trends and identify areas where adjustments may be warranted. This helps us reduce staff turnover and keep a more experienced wilderness therapy staff in the field.
RedCliff Ascent participates in university based and peer reviewed research, giving a greater degree of objectivity to our research efforts. We have dedicated hundreds of thousands of dollars in revenue to a real time data base to track student health, incident control and safety outcomes on a day by day basis.  Our operational and administrative teams review this data each week.
Graduation interviews with parents and students gather data which facilitates program improvement. In the past, this data has resulted in improvements to student apparel and gear, staff enhancements, and the DVD production of the "Parents Seminar."
Likewise, educational consultants are also asked to complete program evaluations which provide feedback on services, family interactions and communication, and transitional planning.
Wilderness Treatment Results data:
(Current research outcome data)
While a number of wilderness treatment programs may site the study conducted at the University of Idaho's Wilderness Research Center, Redcliff Ascent is one of only three remaining programs which participated in the study. Dr. Keith C. Russell's study was designed to measure the effectiveness of treatment in the field of outdoor behavioral healthcare programs. The following is a brief summary of his findings.
Dr. Russell utilized the Youth Outcome Quotient (Y-OQ), an industry accepted instrument designed to measure symptom reduction in psychotherapy.
Study Group:
589 Males (69%)
269 Females (31%)
858 total participants
Participant History:
Participation in Outpatient Treatment Program 491 (57%)
Participation in Inpatient Treatment Program 149 (17%)
Participation in both Inpatient and Outpatient Programs 115 (13%)
Outcome:
The study concluded that participation in an outdoor behavioral healthcare program resulted in clinically significant reductions in severity of behavioral and emotional symptoms.
83% of participants made clinically significant improvements
51.6 average point reduction on Y-OQ survey overall

-Broken down into treatment models continuous flow programs (such as RedCliff Ascent) averaged a point reduction of 63.4

46% of participants returned to NORMAL RANGE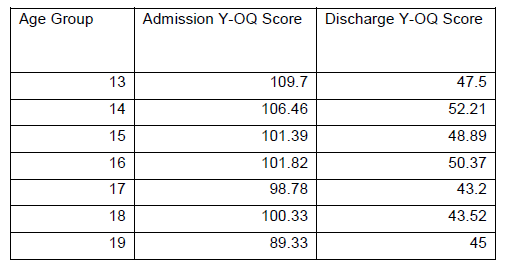 Long Term Results:
12 Month Follow Up: Participants reported maintained or continued improvement.
24 Month Follow Up: Over 80% of parents and 95% of participants viewed treatment as effective.

Please explore our website or call an admissions counselor at 1.800.898.1244 for additional information about how RedCliff Ascent can help your family.
Contact Info
RedCliff Ascent is authorized under Federal law to enroll International students.
SEVIS I-20 approved