Diversity and International Clientele at RedCliff Ascent's Wilderness Therapy Program
RedCliff Ascent works with clients from various backgrounds and cultures. Our wilderness therapy program has effectively worked with clients from around the world with around 15% of RedCliff's students coming from outside the United States representing over 35 different countries!
RedCliff Ascent is authorized under Federal law to enroll International students and is SEVIS I-20 approved.
Wilderness Therapy has international appeal as a treatment approach because most cultures have used or continue to use the outdoors/wilderness as a stage for change and personal growth.
Well, does the therapy and program work as well for natives as it does for foreigners? According to our ongoing and extensive research on effectiveness, international clients have reported similar treatment improvements as clients from within the United States.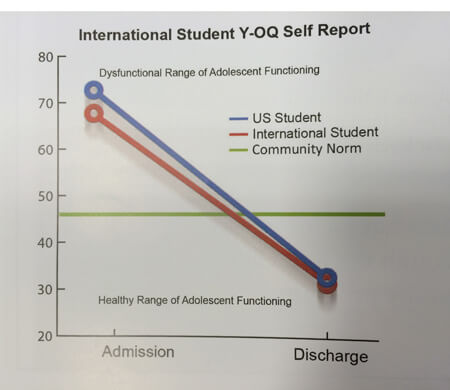 (photo taken from our published research results on wilderness therapy and effectiveness. The Patented YOQ Assessment is a widely accepted tool and used in the above results scoring.)
As you read the following testimonials, notice the similar outcomes in spite of varying cultural backgrounds and geography:
"At last [our daughter] has been able to open up with us" – British mother
"I think it is a strong representation of how much a parent loves their child. To send your child across the world for an experience that can shape a future positively is a wonderful display of love and devotion for the good of the child." – RedCliff staff
"Wilderness brings young man to real life without any illusions" – Russian Father
"The parent narratives really made us think about our family history and how we got into our situation. They also helped us reconnect with our son." – Kenyon Parents
"I believe this experience has allowed my child to grow and mature" – Bermudian mother
"This place gave me a whole new perspective. I felt safe from outside distractions, and I feel like a very different person" – Persian adolescent
International student and family relationship outcomes
A major part of assisting an adolescent in their change and personal growth is also disrupting any dysfunctional family patterns and interpersonal patterns that enable an adolescent's development delay.
RedCliff Ascent uses a Narrative Family therapy approach to work with families and their adolescents. A narrative approach allows families to look at family dynamics and connect with their child in a safe but powerful way.
One specific area of research we have focused on is the long-term effects of wilderness therapy and whether it has lasting effects for students and families. Both parent and child report significant improvement in interpersonal relationships which is maintained at 6 and 12 months after treatment.