RedCliff's Long History
By Steven DeMille, LCMHC
What can Redcliff Ascent attribute their long history of successful wilderness treatment to?
What are the drivers and indicators that have led to constant improvement and better outcomes for troubled teens and their families?
Although there are many factors, Steven DeMille shares his story and RedCliff Ascent's history in pioneering research methods and publishing results over the years.
My First Experience with Wilderness Therapy
In fall of 1999 I came across an advertisement for a job as a guide at a wilderness therapy program. I was quite interested at the time. I was working road construction in the Las Vegas heat. After minimal consideration, I moved to Southern Utah and took a job as a field guide. I quickly saw the impact that treatment in a wilderness setting had on teenagers. Teenagers grew in self-confidence and competence. I experienced them develop healthy life goals and make healthy lifestyle decisions. They became more aware of themselves and others. They stopped trying to defeat structure and started embracing structure, rules, and boundaries. The list of changes could go on.
Wilderness Therapy Research
After years of witnessing the impact of treatment in a wilderness program I wanted to share this with others. This became the seed that grew into my current interest in research. I understood that one of the most effective ways to show others the impact of treatment was through conducting research, which led me to become the Research Director for RedCliff. I am now the Executive Director for RedCliff Ascent and work to educate others on the importance of collecting data to support claims that "our program works."

RedCliff has a long history of conducting research. Over twenty-five years ago we conducted the first outcome study on treatment effectiveness. A few years later RedCliff was part of the seminal outcome study conducted by Doctor Keith Russell, from the University of Idaho, that further demonstrated the effectiveness of treatment in a wilderness setting.
RedCliff was also the major contributor to a separate outcome study published a few years ago in the Journal of Therapeutic Schools and Programs. In addition to the various outcome studies, RedCliff published the first physiological outcome study which showed that not only does a participant's mental health improve but their general health improves as well.
These studies show that wilderness therapy is an effective treatment to improve family relationships, communication, emotional regulation, and self esteem, as well as a myriad of other issues facing our teenagers today.
Commitment
RedCliff has an ongoing commitment to provide quality treatment. As we do so, we continue to conduct research with students and their families during and after the treatment process. Much of the success at RedCliff is due to students and families participation in this research. As well as their contribution to the legacy of research-informed treatment at RedCliff.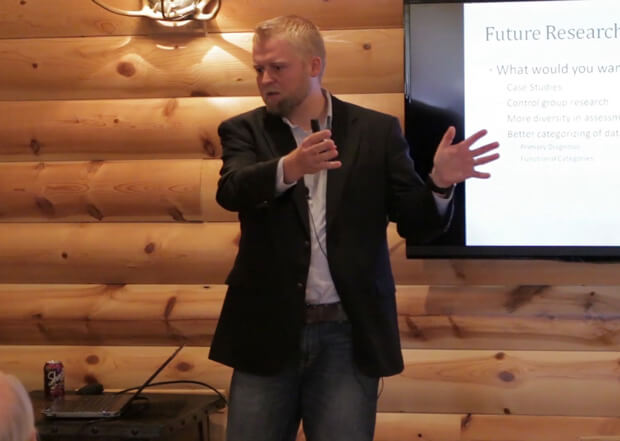 What You Can Do
Occasionally you will receive emails with requests for information regarding your child's behaviors. Please take the time to fill out all questionnaires and assessments.
This allows us to monitor our services and make improvements as needed. All information will be kept confidential. When information is used for program development trainings, or collected for analysis, all identifying information is removed. Your identity and your child's will be completely anonymous.
Thank you to everyone who has participated with us over the last twenty-five years. And thank you to those who continue to do so. Your support of RedCliff's effort to provide the highest quality services also helps future parents when they ask "does your program work?"