Is Wilderness Therapy Safe?
Client Safety and Risk Management Research
RedCliff is committed to providing the safest environment possible for their students. One of the ways we do this is through gathering and monitoring risk management data. In 1999, RedCliff developed the incident review committee which reviews each incident to determine if there are ways to provide a safer environment for students and employees. The incident review committee has been responsible for dramatically improving the safety of our program.
RedCliff's commitment to safety expands beyond our program. In 1997, RedCliff and a handful of other innovative programs gathered to discuss ways to increase the safety of wilderness therapy overall. From that gathering came the OBH Council and later OBHRC, which researches risks associated with wilderness treatment. The findings on 10 years of risk management research were published in 2013 by Steve Javorski and Michael Gass from the University of New Hampshire. In their study they found that:
Adolescents participating in wilderness therapy programs are three times less likely to visit the emergency room for an injury than if they were at home
Adolescents are 140 times more likely to be injured playing in a high school football game than participating in a wilderness therapy program.
Click here for a link to the original article by Javorski and Gass:
Javorshi, S & Gass, M.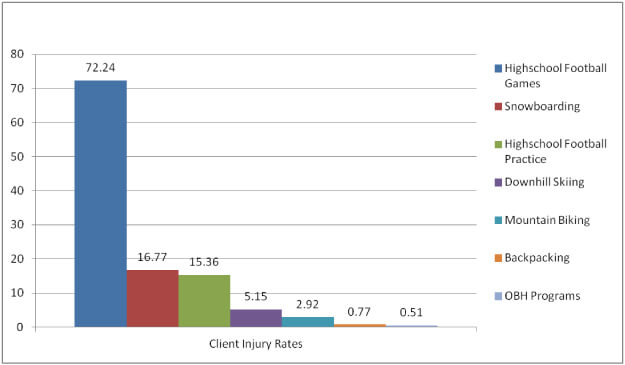 CONTINUE to part 4 of the research Series: "What about the health of my child while in a wilderness program?"